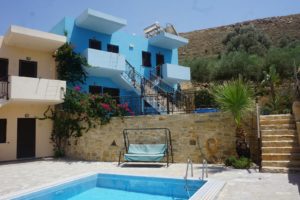 We would like to welcome you to Listaros, southern Crete, where the sun shines 300 days per year. So when you see a cloud, it takes you by surprise like it happened to our daughter Isabella, who supervised the site construction. She did not see even one cloud for 5 straight months. So when in September 2007 she finally saw the first cloud she was stunned, but the cloud disappeared as fast as it came.
Crete will captivate you by the hospitality of her residents, beautiful sight seeing, delicious cuisine and marvelous climate.
Higher temperature and nicer weather are characteristic for southern region of Crete, especially during the spring and fall, in comparison with northern part of the island. Because the Idi mountains keeps the majority of the clouds from coming to Listaros, the vacation in "Psiloritis Apartments" complex will be pleasant even off the season. In the summertime, a nice breeze will keep you cool even with the high temperature outside.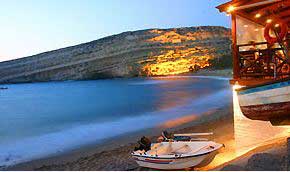 "Psiloritis" hotel will guarantee the great and memorable holidays beside the swimming pool with the beautiful views of the sea and the mountains. Our hotel will also be a great starting point to discover Crete, including, but not limited to the beaches in Komos and picturesque bays.
Visual impressions around the apartments