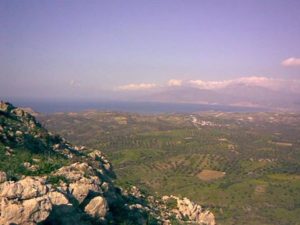 Die Our hotel is located near the Listaros, a small village in southern Crete [approx. 200 m (492 ft) above the sea level]. From each of the apartment you can enjoy a beautiful view of the sea and the mountains Idi with its highest point, Psiloritis [2456 m (8057 ft)]. Listaros is known for its marvelous weather – you will feel well in this microclimate.
From hotel "Psiloritis" you can take the different trips to discover Crete. Whether to see beautiful beaches in Komos and Matali (10 minutes by car) or famous caves, where in 60's and 70's the Hippies settled. Only 20 minutes from Matali there is a beautiful bay of a "Red Beach", the favorite place for the naturists.
In Listaros you can spend a quiet time, far away from the typical tourist crowd. You can walk (or take a car or motorcycle) to Sivas, 2.5 km (1.6 mile) from Listaros, a beautiful village with many taverns, where you should stop to experience delicious Greek food. You can also shop in many of small stores in Sivas, Matali or in Mires, where you also will find the banks, discotheques, pharmacies.
You will however need a car or motorcycle to go to Matali or Mires. If you wish to rent a car, you may want to visit Heraklion, capital and the biggest city in Crete or you may also go to Chania, located 70 km (43.5 miles) and 120 km (74.6 miles), respectively from "Psiloritis" hotel.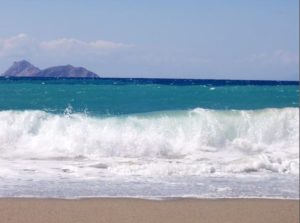 You definitely should visit two the "must-see" attractions: fisherman's port in Timbaki, only 15 km (9.3 miles) from the hotel "Psiloritis" and Agia Galini, a harbor-village, only 25 km (15.5 miles) from "Psiloritis".
Crete and especially southern Crete is not only beautiful, but also unforgettable because of the hospitality of her native people. You will want to frequently return to Crete as many others do to experience the hospitality and friendliness of the local residents.
The flora in Crete is diversified and consists of variety of trees, plants and flowers (2000 different species). Crete with its mountainous landscape, many bays, beautiful beaches, canyons and other wonders is a guarantee for the best vacation.
To make your vacation even more memorable and comfortable, choose our hotel "Psiloritis", where you will spent a great time.
Distances:
Heraklion about 70km (Seaport and airport)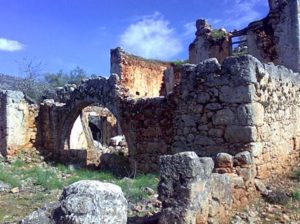 Chania about 120km (Seaport and airport)
Timbaki about 15km (Fishing port)
Agia Galini about 25km (Marina and fishing port)
Agios Pavlos about 35km (Picturesque bay with sandy beach)
Matala about 10km (Bathing bay and caves of that became famous for the hippies)
Festos about 8km (Archaeological excavations)
Recreational activities and sports:
Mountain climbing, hiking, cycling, fishing, horseback riding, snorkeling, diving, swimming, sailing.